AVOJUICE Skin Quenchers Coconut Melon Juicie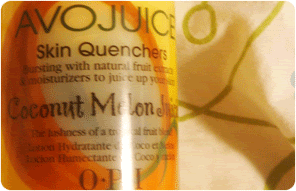 This is the first Coconut hand cream that I have bought which was only a few days ago. Still fairly new. This is from the famous nail brand O.P.I so I assume it is for hands even though it doesn't exactly state what it is for but to moisturize your skin.





Scent:

Although it says it's Coconut Melon, the blend of the "smoothie/juicie" is a result of mango. Still very tropical and very yummy. If you try really hard you can smell the coconut but at first it will be mango.



Product:

I use this for hand cream and it is doing a fair job. Not bad and not good. It comes out thin and slightly runny. It easily sinks into your skin but in my opinion it's a cream for people who have not-so-dry hands and/or for summer seasons.



Result:

I really enjoyed this smell a lot even though I don't like the product really much. The good thing is that this product has shower gel and a body mist so I would love to find those and try them too. I am definitely won over by the scent.